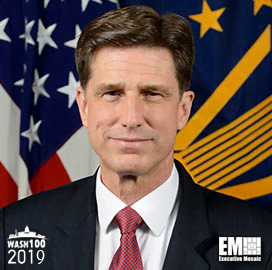 Dana Deasy
CIO
DOD
Dana Deasy Lauds DOD's IT Modernization Contributions to Pandemic Response
Department of Defense Chief Information Officer Dana Deasy said the agency's coronavirus task force and other information technology divisions have helped DOD personnel successfully execute their pandemic response missions. 
Deasy, a past Potomac Officers Club event speaker and a two-time Wash100 awardee, said their IT modernization efforts have helped the department with its whole-of-government response to the crisis, DOD reported Monday. 
"Yes, we had our moments where we had to scramble and get things fixed, but if you kind of take the long view of this thing, it was a truly remarkable result by all of you, so a huge 'thank you,'" Deasy said, speaking to department CIOs and technology leaders.
According to Deasy, the combatant commanders, service leaders and the secretary of defense have all acknowledged the efforts of the DOD's IT organizations. 
He added that the U.S. Cyber Command, National Security Agency, Defense Information Systems Agency, Joint Staff, military services, National Guard Bureau and the DOD CIO office worked together to allow provide hundreds of thousands of employees the tools they need to work remotely. 
Deasy also provided updates on the Pentagon's other modernization fronts, noting the importance of secure quality data in driving the military's development of artificial intelligence. 
The CIO also commended the Joint AI Center for its efforts to ensure that humans and AI can collaborate ethically.
JAIC is the Pentagon's AI Center of Excellence that was created to help the military leverage the capabilities of AI. Deasy specifically lauded the progress JAIC made in the last 18 months. 
Category: Speaker News
Tags: AI artificial intelligence Center of Excellence coronavirus task force Dana Deasy defense secretary Department of Defense DISA DoD IT system JAIC Joint Staff military services National Guard Bureau NSA Speaker News USCYBERCOM