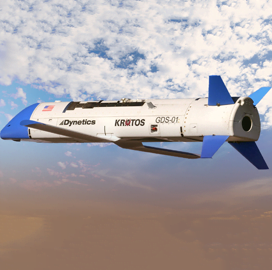 UAV recovery
DARPA, Dynetics to Try Recovering Four Drones in Midair Within 30 Minutes
Dynetics and the Defense Advanced Research Projects Agency will attempt to recover multiple drones after the two organizations proved that they can capture an X-61A Gremlins drone mid-flight and bring it aboard a C-130A mothership.
Tim Keeter, manager for Dynetics' Gremlins program, said on Monday that DARPA and his company must prove that they can recover multiple drones with consistency and speed and show that the capability will have real-world applications. Keeter told reporters that DARPA aims to recover four drones within a 30-minute window.
A successful demonstration could allow the military to deploy drones in contested or denied areas. DARPA and Dynetics recorded its first successful airborne Gremlins recovery on Oct. 29 at Dugway Proving Ground in Utah, C4ISRNET reported Monday.
According to Keeter, the X-61A will be used to gather intelligence, perform target spotting or other activities that rely on sensors. It can also be used in missions that require a large presence to deter enemy actions. The official also hinted that the military could equip the drone with artificial intelligence, enabling operation with minimal supervision.
DARPA performed test flights in late 2020 to recover three Gremlin drones. Nine attempts were made, but none of those were successful due to turbulence, which prevented the drones from locking into the docking station. Brandon Hiller, chief engineer for Dynetics' Gremlins program, said the company learned new lessons from the 2020 tests and will apply them to the future drone retrieval attempts.
The X-61A Gremlins is an unmanned air vehicle that can perform ground support, strike, reconnaissance and cargo missions. It is being developed by a team that includes Dynetics, Kratos Unmanned Aerial Systems and Sierra Nevada Corp.
Category: Future Trends
Tags: airborne drone recovery Brandon Hiller C4ISRNET Defense Advanced Research Projects Agency Dynetics Future Trends Kratos Unmanned Aerial Systems Sierra Nevada Corp. Tim Keeter X-61A Gremlins