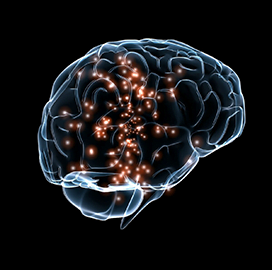 Artificial intelligence
DARPA Seeks to Improve Reliability, Trustworthiness of AI-Based Systems
The Department of Defense's research arm is seeking additional funding to improve the reliability and trustworthiness of its artificial intelligence-based systems. 
Peter Highnam, acting director of the Defense Advanced Research Projects Agency and a past Potomac Officers Club event speaker, said AI's vast number of use cases makes it difficult to determine at what point they become reliable, Breaking Defense reported.
"There's so many different application areas and there's so much that needs to be done to make the current AI technologies robust — and to figure out, and to explore and define, what the next wave of AI technologies are, what the emphasis will be," Highnam said.
He added that another problem area for AI development is the lack of commonly agreed upon methodologies for AI systems engineering. 
One area where DARPA seeks to integrate AI capabilities into is 5G wireless networks, Highnam said. He noted that governments and militaries around the world are already racing to establish the technology to underpin the internet of things. 
David Honey, DARPA's acting deputy director and a past Potomac Officers Club event speaker, said other DOD branches, including the Joint Artificial Intelligence Center, are already set up to deploy, productize and sustain DARPA's AI efforts.
"And I find that to be a very exciting development that wasn't there before. That was desperately needed," Honey said.
Highnam mentioned other priority areas for investment in 2021 such as electronics, space, directed energy and quantum science.
Category: Speaker News
Tags: 5G AI systems engineering artificial intelligence Breaking Defense DARPA David Honey Defense Advanced Research Projects Agency JAIC Peter Highnam POC speaker Speaker News