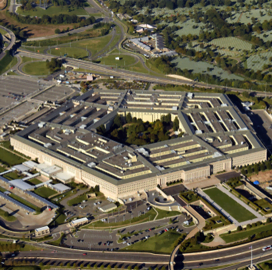 Pentagon
DARPA to Create Apple Store-Like Storefront for Companies
The Defense Advanced Research Projects Agency plans to create a storefront where companies can access information and learn how to sell their products to the Department of Defense, a top official said. 
DARPA Director Victoria Coleman, a speaker at the Potomac Officers Club's upcoming Annual Defense Research and Development Summit, said the storefront will help contractors better understand the agency's work and explore opportunities, C4ISRNET reported Thursday.
"If I have a place where … there's foot traffic, people just come in and they think 'What is that? Well, maybe my company can play in that,'" Coleman added.
The storefront would let company representatives talk to program managers in a "very casual, informal kind of space." Coleman said the storefront would be similar to the Genius Bar at an Apple store. 
Coleman, who previously led an artificial intelligence startup, said she can speak for companies that encounter difficulties trying to access the DOD marketplace. 
"I've served on the [Defense Science Board] and another organizations for so long, [and] I didn't know where to go. If I don't know where to go, what are the chances of other innovators finding their way?" she told C4ISRNET and Defense News. 
Coleman was appointed as DARPA director in August 2020 from her role as a DOD adviser. She spent years as a senior adviser at the middle for information technology research within the Interest of Society at the University of California, Berkeley. 
She was the founding chair of DARPA's Microsystems Exploratory Council. Her specialties includes AI, microelectronics, mobile devices and other consumer electronics products, according to Geospatial World.
Category: Speaker News
Tags: AI Apple artifiical intelligence C4ISRNET DARPA Defense Advanced Research Projects Agency Defense News Department of Defense DoD Genius Bar POC Potomac Officers Club Speaker News storefront summit University of California Victoria Coleman