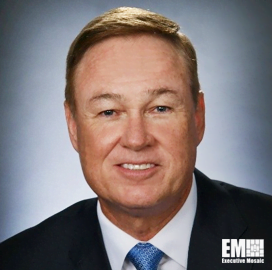 Darryl Burke
USAF client executive
CACI
Darryl Burke, SVP and Air Force Client Executive at CACI
Darryl Burke serves as a senior vice president and Air Force client executive at CACI, a professional services provider that supports customers in the defense, homeland security, intelligence and health care sectors. 
Burke has more than 20 years' worth of experience leading in aerospace operations industry areas such as air traffic control, flight operations, maintenance, logistics, safety, navigation, acquisition, cyber, human resources, contracting finance, legal and unmanned aerial vehicles, according to his LinkedIn profile. 
Before he joined CACI in December 2019, Burke was the vice president of global intelligence, surveillance and reconnaissance programs at ViaSat.
ViaSat is a global telecommunications company that specializes in residential internet service, commercial satellite communications, managed Wi-Fi services and Department of Defense encryption products, among others. 
For three years, Burke concurrently served as the commander of the Air Force District of Washington and the 320th Air Expeditionary Wing, headquartered at Joint Base Andrews.
He was responsible for organizing, training and equipping combat forces for aerospace expeditionary forces, homeland operations, civil support, national special security and ceremonial events. 
Burke spent more than two years as the Defense Intelligence Agency's deputy commander of Joint Functional Component Command-ISR. He helped develop strategies and plans to integrate defense intelligence and operations capabilities in support of combatant commands. 
Burke earned a master's degree in national security strategy from National War College. He also holds a bachelor's and a master's degree in aeronautical studies from Embry-Riddle Aeronautical University. 
Category: Executive Profiles
Tags: CACI Darryl Burke Defense Intelligence Agency DIA Emry-Riddle Aeronautical University Executive Profiles LinkedIn National War College professional services Senior Vice President SVP telecommunications Viasat