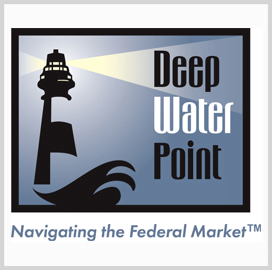 Deep Water Point
Deep Water Point Welcomes Robert Ashley as New Principal
Robert Ashley has been named a new principal at Deep Water Point, a federal management consulting firm headquartered in Washington, D.C.
In his new role, Ashley, a two-time Wash100 winner and past Potomac Officers Club event speaker, will support the firm's consulting practice, particularly in the areas of defense and intelligence.
He joins a team of former senior government, military and industry executives, including officials who held top roles in the U.S. European Command, Southern Command, Northern Command and Cyber Command, Deep Water Point said Wednesday.
With a career spanning over 30 years, Ashley is experienced in operational combat, intelligence, global security, cybersecurity, analytics and risk management.
He spent the last three years serving as director of the Defense Intelligence Agency. As the DIA's leader, he monitored worldwide threats and headed daily threat briefings for senior leaders. He was responsible for keeping track of all threats from nation-state actors to violent extremists across the diplomatic, information, military, and economic spectrum.
Before that, he was a senior executive in the Army's G2 team. During his nearly three-year stint as the G2's deputy chief of staff for intelligence, he led efforts to develop security, counter-intelligence and intelligence systems for the Army's intelligence force.
Ashley also spent a little over eight years as the commandant for the Army's Intelligence Center and senior commander for Fort Huachuca, helping train over 10,000 soldiers annually in multiple intel specialties such as cyber, counter-intelligence and open-source intelligence.
He holds a bachelor's degree in political science from Appalachian State University and a master's degree in military strategic intelligence from the Defense Intelligence College.
Category: Speaker News
Tags: Army G2 Deep Water Point Defense Intelligence Agency DIA executive move principal Robert Ashley Speaker News