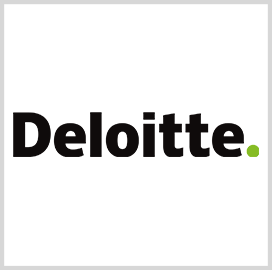 Deloitte Consulting
Deloitte to Build JAIC's JCF Platform Under $106M Contract
The Department of Defense's Joint Artificial Intelligence Center has awarded Deloitte Consulting a $106M contract to build its Joint Common Foundation AI development platform. 
Under the four-year task deal, Deloitte will operate as the lead system integrator of all contractor service solutions for the JCF, FedScoop reported.
"JCF will provide an AI development environment to test, validate, and field AI capabilities at scale across the Department of Defense," JAIC Spokesman Arlo Abrahamson said in a statement, according to a report by Federal News Network.
The JFC serves as a cloud-enabled environment that was developed by the Air Force's Platform One team for use by the DOD for AI and machine learning initiatives.
It reportedly serves as a key component of the Pentagon's AI toolkit and serves as a place for coders to build models, work with data and develop AI systems. 
Deloitte will provide, operate, maintain, secure and enhance the JFC with platforms and technologies that can be distributed across the entire defense DOD enterprise, JAIC said in a statement. 
According to FedScoop, the Platform One team has been working with JAIC to establish DevSecOps practices for the JCF. Sang Han, JCF's chief of infrastructure and platform, said the company will help the team continue implementing security-at-entry-level practices. 
Deloitte will also work with promising small businesses and "lower the barriers" for bringing new commercial work to JAIC's reportedly bureaucratic acquisition process. 
"This will allow us to quickly accelerate AI/Ml development across the DOD," Han said in an interview. 
Deloitte is a management consulting company headquartered in New York City. It specializes in audit, consulting, financial advisory, risk management and tax services, according to its LinkedIn profile.
Category: Contract Vehicles
Tags: AI development platform Air Force Arlo Abrahamson artificial intelligence contract award Contract Vehicles Deloitte Consulting Department of Defense DevSecOps Federal News Network FedScoop JAIC JCF Joint Artificial Intelligence Center Joint Common Foundation machine learning management consulting New York Platform One Sang Han