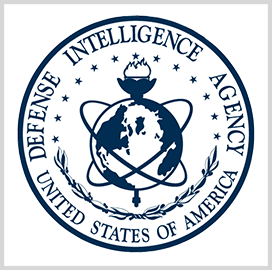 DIA Prepares Data Tech to Support DOD's AI Shift
The Defense Intelligence Agency is preparing workers and defense technologies to help the Department of Defense fully embrace artificial intelligence technology, according to a DIA official.
Terry Busch, the DIA's division chief of integrated analysis and methodologies within the directorate for analysis, said his agency developed the Machine-Assisted Analytic Repository System for an Agile approach to Pentagon databases, MeriTalk reported Tuesday.
"We saw those coming AI missions. We knew we needed to reframe the technology. So, MARS, Machine-Assisted Analytic Rapid-Repository System, was envisioned and launched," Busch said during a webinar about AI's contributions to national security.
DIA announced MARS in May 2019 as the "polar opposite of a static acquisition program." It was designed to provide support from early development stages to address national security challenges. 
MARS provides developers with a better understanding of how AI algorithms work, which Busch said will help build trust as the agency transitions to a more data-centric workforce.
Busch said the DIA is testing human analysts against machine analysts to better understand the algorithm's data-driven decision-making process. Developers gradually take away information from the system to determine which pieces impact confidence level.
According to the division chief, the agency wants to learn the differences between machine-based AI and human-based AI. "It is a more collaborative future that we face," Busch said.
The DIA is a component of the Department of Defense and the Intelligence Community. It informs national civilian and defense policymakers about the military intentions and capabilities of foreign governments and non-state actors.
Category: Popular Voices
Tags: artificial intelligence data Defense Intelligence Agency Department of Defense Intelligence Community Machine-Assisted Analytic Rapid-Repository System MARS MeriTalk Popular Voices Terry Busch