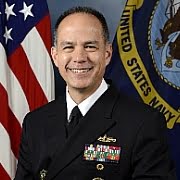 Jon Hill
Director
Missile Defense Agency
Director Jon Hill Explains Why MDA Paused Hypersonic Defense Effort
The Missile Defense Agency has halted its plan to design a defensive hypersonic missile and wants to instead focus on near-term goals, according to a top official. 
MDA Director Jon Hill made the announcement months after the agency asked industry to submit white papers to build a hypersonic defense regional glide phase weapons system interceptor, Defense News reported Tuesday.
"I'll define the near-term as the mid-20s, and then feed the science and technology investments going so you can get to that farther-term, more elegant solution," Hill said during the virtual Space and Missile Defense Symposium. 
Hill stressed that the MDA still wants the defensive capability to be completed as soon as possible. The designers are focused on developing a system for defeating hypersonics in the glide phase, he added.
Achieving such a capability could come from various technologies, including different warhead types, different effector types and different propulsion types, Hill said.
While the MDA has a long-term plan to pursue hypersonic defensive capability, Hill said the agency is focused first on its Hypersonic and Ballistic Tracking Space Sensor. "That is number one, we have got to be able to sense, detect and get tracking and fire control information down to the shooter," he said.
Hill added that the MDA will leverage its command-and-control battle management and the effectors it has in place and that the agency can also take advantage of its existing land-based and sea-based sensors for tracking data.
"The question is how long do you stay in the science and technology world? You should also take a look at a quick development path and that is what we are looking at now," Hill said.
Category: Popular Voices
Tags: Defense News defensive hypersonic missile Hypersonic and Ballistic Tracking Space Sensor Hypersonic Defense Regional Glide Phase Weapons System hypersonics Jon Hill MDA Missile Defense Agency Popular Voices