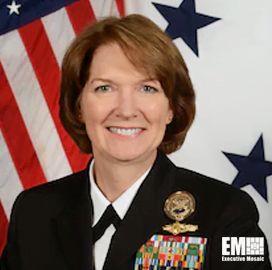 Nancy Norton
Director
DISA
DISA Thrived During Pandemic Because of Cloud, Director Says
Cloud and telework technologies allowed the Defense Information Systems Agency to thrive during the coronavirus pandemic, according to the agency's director.
Speaking at an AFCEA virtual luncheon, Navy Vice Adm. Nancy Norton said DISA factors its employees' safety into all of its decisions, Defense .gov reported Thursday.
"Our primary goal is to preserve and protect the ability of our workforce to conduct mission central operations that we support on national defense and current worldwide military missions," Norton added.
She said that DISA's workforce has been helping the Department of Defense accomplish its high-stakes missions since the beginning of the pandemic. 
DISA provides information technology services and communications to the executive government, the military services and the combatant commands.
Norton, a 2018 Wash100 awardee, said DISA spent the last 10 months working on "cloud-based internet isolation," an initiative to adopt best-in-class technologies through a rapid-acquisition strategy. 
CBII essentially runs web browsers on an isolated cloud environment and video streams its content on the user's computer. The system was designed to contain and eliminate malicious threats.
"CBII is proving to be a game-changing solution in our ability to protect department networks against web browser-based threats, making them more secure from the office or from home," Norton said. 
Angela Landress, chief of defensive cyber operations, previously said that DISA's CBII program still works even if the employee does not connect to the agency's virtual private network.
DISA tapped By Light Professional IT Services in November 2020 to work on CBII under a $198M other transaction authority contract. 
Category: Popular Voices
Tags: AFCEA Angela Landress By Light CBII cloud Cloud-Based Internet Isolation coronavirus cybersecurity Defense Information Systems Agency Department of Defense Director DISA DoD information technology IT Nancy Norton Navy Popular Voices telework