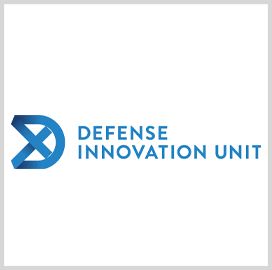 DIU Posts Open Solicitation for Machine Learning-Based RPA Enhancement
The Defense Innovation Unit is looking for a machine learning platform that can improve the utility of the Department of Defense's robotic process automation tools for business tasks.
DIU said it wants its RPA tools to become better at solving complex patterns by leveraging pattern recognition techniques and being more adaptable to different scenarios, FedScoop reported Thursday.   
"The ML platform will identify and suggest corrections to business processes that are not limited to previously well-defined business logic methods," the solicitation read. 
In its open solicitation, DIU said it consistently spends millions of hours of man-hours to manually detect and resolve errors in enterprise resource management systems.
The area-of-interest solicitation will be awarded in accordance with the Commercial Solutions Opening process posted on the FedBizOpps website. 
The effort will be a competitive 12-month prototype project. All solutions must be U.S.-made and ready for demonstration upon submission. 
Machine learning is a technique for developing artificial intelligence that involves training computers to make inferences from large data sets.
The department will measure the success of submitted solutions based on their effectiveness in supporting professional triage and care activities.
"A successful prototype will develop, train and employ a solution to access at-rest and streaming multi-modal structured and unstructured data," DIU said in the solicitation.
Solutions are expected to be able to build unique behavioral models, maintain unique historical-record tags, identify individual behavior deviations, create output optimized to specific information delivery needs and direct support professionals in triage efforts, among others.
Category: Popular Voices
Tags: AI artificial intelligence Defense Innovation Unit DIU FedScoop machine learning ML Popular Voices Rachael Martin robotic process automation RPA