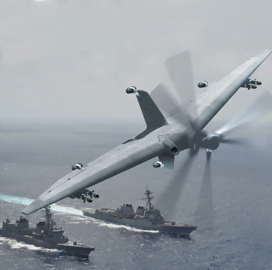 Unmanned aerial system
DoD Adopts CACI Anti-DroneTechnology to Counter UAS Threats
The U.S. Army has selected CACI's technology to protect the Department of Defense's workforce and sites from drone threats. 
The CORIAN system, which the Army's Joint Counter-Small Unmanned Aircraft Systems office chose for the DoD, monitors and counters attacks from hostile UAS through the use of a precision-neutralization network that leaves radio waves and other types of communication spectrums intact, the company said. 
DOD appointed the Army JCO to serve as the executive agent for the system to find out and organize technological issues. The office is also tasked to coordinate with industry partners and players to identify the latest C-sUAS technologies along with the challenges and performance. The unit is likewise responsible for encouraging competition among providers to enhance innovation, design and acquisition programs. 
The fixed/semi-fixed system was among the three networks that were selected from among the more than 40 types offered to the DoD. The agency said the Virginia-based defense technology company's program showed "the best performance and capability mix during the assessment" process. The benchmark used in the selection included integration, sustainment, usability and system effectiveness. 
The company said CORIAN incorporates the 1-3 drone detection and mitigation ranges with the agency's C-sUAS signal database to get ahead of the rising and evolving enemy drone threats. 
John Mengucci, CACI president and CEO and a 2020 Wash100 winner said the company is maintaining its major presence in the counter-UAS market and continuing to develop technologies to meet the DOD's operational requirements.
"CACI looks forward to expanding our base of installed systems worldwide and continuing our support to the Defense Department with CORIAN for immediate use, future research and testing to counter UAS threats," he said.
Dr. J.P. London, the company chairman of the board and executive chairman and a two-time Wash100 winner, said, "As a national security company, CACI continues to bring innovation and expertise to advance the military's critical C-sUAS capabilities and to equip and protect our warfighters around the world."
Category: Future Trends
Tags: C-sUAS CACI CORIAN Department of Defense fixed/semi-fixed system Future Trends J.P. London John Mengucci Joint Counter-Small Unmanned Aircraft Systems U.S. Army unmanned aircraft system