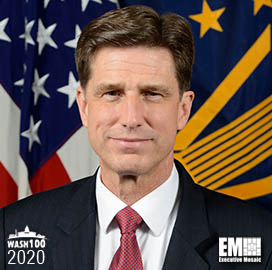 Dana Deasy
CIO
Department of Defense
DoD CIO Shop Working on Upgrading Commercial Virtual Remote Environment 
Department of Defense Chief Information Officer Dana Deasy wants to strengthen the cybersecurity of the Commercial Virtual Remote Environment to facilitate more secure types of collaboration among the department's remote workforce.
In a recent interview, Deasy confirmed that pilots are underway to enable the CVR to operate at Impact Level 5, allowing DOD's employees to work on mission-critical information in a telework setting.
According to Deasy, the goal is to upgrade the CVR to Impact Level 5 by yearend, marking a potential leap in the platform's current Impact Level 2 status, which limits remote users to working on noncritical mission information only, C4ISRNET reported.
At its core, the CVR is a teleworking environment adopting the Microsoft Teams platform.
It was launched in late March under Deasy's leadership in response to the coronavirus pandemic.
The CVR moved at a fast pace upon its release, at one point registering 250K new accounts in a day, which exceeded the initial target of 100K users.
Moving forward, however, Deasy said DOD needs to earmark funding to accommodate telework in future budget requests to Congress, citing a potential CVR expansion. The money, he said, would support the maintenance of the CVR environment and the establishment of a whole background infrastructure support.
Besides integrating additional layers of cybersecurity to the CVR, DOD increased its network capacity and distributed new devices to employees as part of its telework initiatives. Deasy added that the pandemic has instilled a sense of urgency among information security officials from the National Security Agency, Cyber Command and the Defense Information Systems Agency in dealing with new cybersecurity risks associated with telework, Deasy said.
There have also been discussions about retaining certain telework policies even after the pandemic subsides, Deasy said, considering the CVR environment could prove useful in the future.
Category: Popular Voices
Tags: Bruce Crawford C4SIRNET Commercial Virtual Remote Environment CVR Environment cybersecurity Dana Deasy Department of Defense IT Modernization Mark Esper Microsoft Teams Peter Ranks Popular Voices