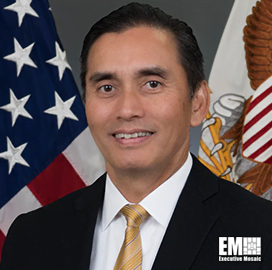 Vic Mercado
Assistant Secretary
DOD
DOD Exec: Joint Warfighting Concept to Identify Capability Gaps, Address Great Power Competition
Vic Mercado, assistant secretary of defense for strategy, plans and capabilities, expounded on the Joint Warfighting Concept in an interview with a small group of reporters last week.
The new concept builds on the 2018 National Defense Strategy and emphasizes the importance of operating as a joint force from space down to the tactical level on the ground.   
According to Mercado, the Joint Warfighting Concept will reflect the work of all the military service branches and position the Joint Staff to identify capability gaps and assign roles to ensure future war success, Breaking Defense reported.  
The strategy will also drive investments and address the great power competition, Mercado added. 
While officials believe the concept will be ready by the year-end, Mercado wishes that it was already in the hands of defense leaders to inform current decisions about shipbuilding, ship procurement and potential steps that can be taken by the combatant commands. 
The near completion of the concept comes as the military grapples with a flat budget, as it seems unlikely for the defense budget to see the desired 3 percent to 5 percent annual growth.
With budget constraints, Mercado said the military might have to take some risks in the near-term and invest in technologies like hypersonics and artificial intelligence, which will be critical in the long-term. 
Amid the continued development of the concept, Defense Secretary Mark Esper, a 2020 Wash100 winner, has ordered a series of deep dives on the various combatant commands that are due in September. 
The reviews, Esper said, contains some common themes in a joint warfighting concept, including logistics approaches and ways to command and control the forces.
Category: Popular Voices
Tags: 2018 National Defense Strategy artificial intelligence Breaking Defense budget David Norquist Department of Defense hypersonics Joint Warfighting Concept Mark Esper Philip Davidson Popular Voices technological innovation Vic Mercado