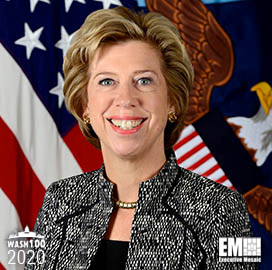 Ellen Lord
Acquisition chief
Department of Defense
DOD Expands Classified Access for Select Defense Companies
The Department of Defense has launched a program allowing certain defense companies to gain broader access to classified information. 
DOD acquisition chief Ellen Lord, a past Potomac Officers Club even speaker and four-time Wash100 winner, said the special access program contractor portfolio program was created in response to the increased level of technical protection needed to maintain U.S. technological competitiveness, Air Force Magazine reported Monday.
"As the world sees a return to great power competition, the Department of Defense must strengthen its engagement with the defense industrial base in order to respond to the national security challenges facing the United States in a more responsive and cost-efficient manner," Lord said in a memo.
SAP CCP had been running as a pilot initiative for several years. Lord said that the program is aimed at balancing the need to understand technology development with the need to protect sensitive information.  
The Pentagon did not say how many or which companies are part of the SAP CCP. Lord only said that a company must be on contract for at least 15 SAPs to participate. 
She said that the program will provide the defense industrial base with insight into SAP-supported architectures to improve the industry's ability to conduct informed independent research and development. 
Industry professionals will also have the access to the information they need to better protect the SAP information they are charged with safeguarding, Lord said. 
The director of the DOD SAP Central Office will work with defense components with SAPs in implementing the program. The SAPCO director will regularly update Lord on the status of the CPP and the challenges it is facing. 
Category: Speaker News
Tags: classified Defense Industrial Base Department of Defense DoD Ellen Lord government contracting SAP CCP SAPCO Speaker News