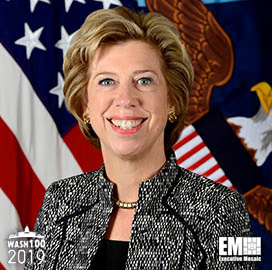 Ellen Lord
DoD Increases Investments in Medical Equipment to Achieve Self-Sufficiency
The Department of Defense has focused on increasing its investments in medical resources to decrease dependence on foreign suppliers. According to Ellen Lord, the undersecretary of defense for acquisition and sustainment and a 2020 Wash100 winner, the department has made about $284M in industrial expansion investments during the first two weeks of May in its push for self-sufficiency.
The investments are aimed at increasing the country's domestic production of N95 masks in 2021, with the production rate expected to eclipse 1B per year, Army Technology reported.
"Reconstituting domestic production or creating new production that shifted offshore years ago often requires capital expenditure, capital equipment expenditures, retooling and retraining of the workforce," Lord said.
The efforts to increase domestic industrial capacity and capabilities are expected to provide the COVID-19 Joint Acquisition Task Force with enough N95 masks for pandemic response efforts. Stacy Cummings, director of DoD's COVID-19 Joint Acquisition Task Force, believes that the country can achieve an annual production rate of 450M masks by October and over 800M by January.
Amid the coronavirus pandemic, the U.S. has seen a significant rise in its consumption of N95 masks. The country has used 140M N95 masks in the last three months alone compared to its annual 50M consumption rate before the pandemic struck.
Additionally, the DoD is using 688M from the coronavirus relief funding it received from Congress to facilitate pandemic recovery across the defense industrial base. According to a DefenseNews article, the department has earmarked $171M for the aircraft propulsion industrial base and $150M each for shipbuilding and submarine launch tubes and the space launch industrial base. A smaller portion of the funding will be dedicated to manufacturers of microelectronics, body armor and hypersonics, which are slated to receive $80M, $62M and $40M, respectively.
Lord said the effort will infuse an estimated $3B in cash to all levels of the defense industrial base.
Category: Speaker News
Tags: Army Technology CARES Act Defense Industrial Base Department of Defense DIB domestic production Ellen Lord medical resource Speaker News