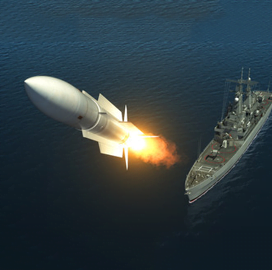 Hypersonic weapon
DOD Must Clearly Define Roles in Hypersonics Development, GAO Says
The Department of Defense must clarify the individual roles of its components involved in the development of hypersonic weapons, the Government Accountability Office said in a report.
GAO said DOD has 70 lines of hypersonics research effort across its enterprise. The projects cost nearly $15 billion from fiscal years 2015 through 2024, GAO said.
Most of the department's hypersonics budget is focused on the development and fielding of prototype offensive weapons. The department has a smaller proportion devoted to researching defenses against hypersonic threats, GAO found.
The Department of Energy and NASA are working with DOD in supporting roles but the Pentagon itself has not documented the hypersonics research responsibilities of its organizations and the military services, according to the watchdog.
GAO said that by not having clearly defined roles, DOD risks delaying its progress towards delivering new capabilities and opens up the potential for conflict and wasted resources.
GAO recommended that the secretary of defense take charge in defining and documenting the roles, responsibilities and authorities of the leaders handling hypersonics research and development. DOD agreed with the recommendation.
In February, the Defense Department announced a three-part integrated strategy to accelerate the development of hypersonic and counter-hypersonic capabilities.
The first part involves fielding offensive capabilities for maritime, air and land-based strikes against high-value targets.
Mike White, principal director for hypersonics in the Pentagon's research and engineering office, expects the capabilities to be ready by the early or mid-2020s.
As GAO said in its report, DOD's hypersonics efforts are expected to last through the next decade. White said the final leg of the three-part strategy, which has to do with reusable hypersonic systems, will likely be ready in the early to mid-2030s.
Category: Future Trends
Tags: Department of Defense Department of Energy DoD Future Trends GAO GAO report Government Accountability Office hypersonic Mike White NASA reusable hypersonic