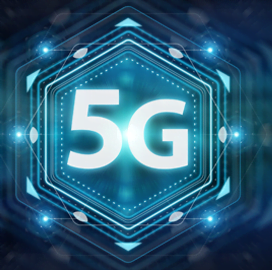 5G
DOD Offers 100 MHz of Mid-Band Spectrum for Commercial 5G
The Department of Defense has agreed to contribute an additional 100 MHz of mid-band spectrum for the United States' pool of bandwidth for commercial 5G use, according to a top department official. 
DOD Chief Information Officer Dana Deasy, a past Potomac Officers Club event speaker and two-time Wash100 awardee, will provide spectrum in the 3450-3550 MHz band, which is used by military radar and some weapon guidance and safety systems, FCW reported Tuesday.
Deasy said the sharing rules will likely be "similar to AWS-3, where for the most part the spectrum will be available for commercial use without limits, while simultaneously minimizing impact to DoD operations."
The selection of DOD's band was based on a recommendation by the 180-person America's Mid-Band Initiative Teams published in a report by the National Telecommunications and Information Administration. 
DOD is reportedly creating a "Spectrum Relocation Fund Transition Plan" to help reduce disruptions to the department's operations while systems are being transitioned or modified to allow commercial network sharing. 
White House Chief Technology Officer Michael Kratsios, a two-time Wash100 winner, said the effort is "critically needed" and that the sharing will not negatively impact the United States' military and national security capabilities.
"Mid-band has the ideal characteristics of 5G deployment [and] can travel long distances to ensure that all Americans have access to the network while delivering ultra-fast speed and high performance that will power the technology into the future," Kratsios said. 
According to Kratsios, the Federal Communications Commission may start auctioning off the Pentagon's spectrum starting December 2021, with plans to begin 5G operations by mid-2022.
Category: Speaker News
Tags: 5G AMBIT America's Mid-Band Initiative Teams AWS-3 bandwidth sharing Dana Deasy Department of Defense FCW Federal Communications Commission Michael Kratsios Speaker News spectrum deal Spectrum Relocation Fund Transition Plan White House