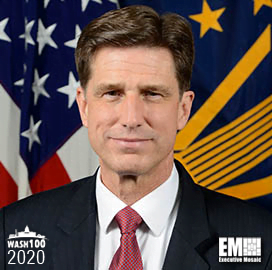 Dana Deasy
CIO
Department of Defense
DoD Releases First Data Enterprise Strategy
The Department of Defense has outlined principles, capabilities and end goals under its first data enterprise strategy to advance its goal of becoming a data-centric organization, with emphasis on harnessing data to enable joint all-domain operations, C4ISRNET reported.   
According to a statement released by DoD's chief information officer, Dana Deasy, a past Potomac Officers Club event speaker and 2020 Wash100 winner, the newly released data enterprise strategy represents the department's first step to ensuring that data is persistently available across the enterprise regardless of echelon or geographic location. 
To facilitate joint warfighting operations, the strategy lays out eight goals centered around data visibility, accessibility, interoperability and security, among other things. 
The goal of enabling joint warfighting operations ties into the military's Joint All Domain Command and Control initiative, which the strategy addresses as well. The strategy calls on data leaders across the DoD to establish clear data standards and interoperability requirements for future technology. Moreover, the strategy stresses the importance of integrated JADC2 exercises in identifying data gaps.   
The DoD also indicated four essential capabilities under the strategy to achieve its data goal, including an enterprise cloud architecture and other open-architecture capabilities, as well as a family of standards for data asset management and sharing. The department also considers effective data governance and enterprise-wide data-driven decision making as essential capabilities.
Speaking with C4ISRNET, a DoD official revealed that the department is also developing key performance indicators to monitor improvements with regards to applying data to inform warfighting and decision making.
Category: Speaker News
Tags: artificial intelligence C4ISRNET cloud architecture Dana Deasy Dave Spirk Department of Defense Digital Modernization Strategy enterprise data strategy JADC2 Joint All Domain Operations joint war fighting Speaker News