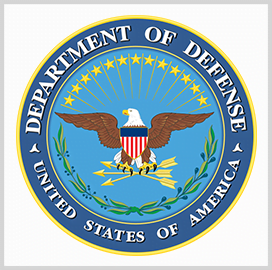 Department of Defense
DOD Seeks Prototype Spectrum Technology for Aerial Combat Training
The Department of Defense has released a request for prototype proposals for technology that can maintain spectrum availability for aerial combat training.
The RPP supports the department's planned Operational Spectrum Comprehension, Analytics and Response project, which is aimed at determining how best to assign or modify spectrum access parameters and policies, the National Spectrum Consortium said Monday.
According to the consortium, DOD needs a software application with a unified graphical interface, automated workflows, a sensor network and an extensible framework.
The technology will be used at testing and training ranges for aerial combat training to ensure spectrum availability for existing systems and future ones in the Advanced Wireless Services-3 band.
"The solutions that are developed won't be limited to domestic use. They will also support operational capabilities called for in the Joint All-Domain Command and Control and Electromagnetic Superiority strategies," said NSC Executive Director Maren Leed.
JAD2C is the Pentagon's concept of connecting sensors from all of the military services into one network. Traditionally, the services developed their own tactical networks that were incompatible with those of other services.
DOD issued the RPP under the Spectrum Access Research and Development Program, a series of requirements for spectrum technologies that leverage artificial intelligence and machine learning capabilities.
Earlier in April, DOD issued two other RPPs for near-real-time spectrum management. The two are among the first to be issued under the NSC's five-year, $2.5 billion-ceiling Spectrum Forward Other Transaction Agreement signed in December 2020.
The NSC is made up of technologists, engineers, scientists, manufacturers and program managers from over 400 companies and academic institutions.
Category: Future Trends
Tags: artificial intelligence Department of Defense Future Trends machine learning Maren Leed National Spectrum Consortium Operational Spectrum Comprehension Analytics and Response OSCAR Spectrum Access Research & Development Program spectrum sharing