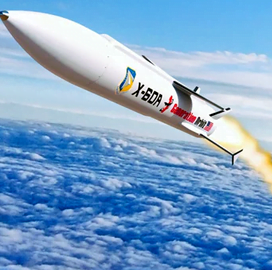 DoD to Flight-Test New Hypersonic Glide Body in 2020
The Department of Defense is scheduled to test a new hypersonic glide body within 2020, according to hypersonics director Mike White. He said DoD will first conduct flight experiments before testing weapon system prototypes.
While White did not reveal a specific testing date nor how the glide body will be tested, he said it must be compatible with future weapon applications, National Defense Magazine reported Monday.
Department officials had previously announced four test flights for 2020 and 40 others for the coming years. Both the Army and the Air Force are pursuing hypersonic capabilities.
Mark Lewis, the Pentagon's director of modernization, said DoD is still determining whether there is an industrial base to support the mass production of hypersonic weapons. 
Category: Popular Voices
Tags: Army Department of Defense DoD hypersonic Mark Lewis mass production Mike White National Defense Magazine Pentagon Popular Voices prototype testing U.S. Air Force