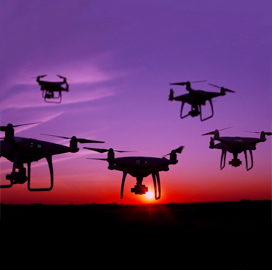 Drones
DOD to Release Counter-Drone Capabilities Strategy Next Month
The increase in the number of small and low-cost drones in airspace may not only pose risks to personal and critical assets but also affect the military's ability to perform operations, according to Maj. Gen. Sean A. Gainey, program director at Joint C-sUAS Office. 
He said the Department of Defense is set to issue a counter-small unmanned aircraft systems strategy in November 2020 to address concerns over the potential threats and the lack of reliable networked capabilities within the U.S Central Command's area of responsibility. 
Gainey noted that the strategy is also meant to bring an open-system architecture and enterprise approach to the military's counter-drone capabilities.
UAS is grouped into five classifications. Small UAS represent the first three categories while four and five groups constitute the large drones. 
Gainey said about 90 percent of the U.S. Army's counter-drone capabilities are electronic warfare-based networks. Most unmanned vehicles are equipped with lasers or microwave-signal features that block communications between device and operator. 
He added that the drone threat is evolving as autonomous drones along with off-the-shelf technology continue to rise. The situation may overwhelm the C-sUAS system's operators as a result. 
The proliferation caused the JCO to modify the DOD's C-sUAS requirements and make a networked systems approach. The office likewise takes into account the use of artificial intelligence and machine learning technologies to help address possible threats. 
Gainey noted that the Army also intends to combine the C-sUAS capabilities with the Integrated Air and Missile Defense Battle Command System. The system is still under evaluation, being conducted by the Army Futures Command.
In addition, officials recommended that training should be given to personnel to enhance the military's counter-drone abilities. 
The Fires Center of Excellence at Fort Sill, Oklahoma, is seen to construct a Joint C-sUAS academy by 2024. The facility will supplement the current training operations at Yuma Proving Ground in Arizona.
Category: Future Trends
Tags: artificial intelligence C-sUAS Col. Richard Wright Counter-Small Unmanned Aircraft System Department of Defense electronic warfare Future Trends machine learning Maj. Gen. Sean A. Gainey U.S. Army U.S. Central Command