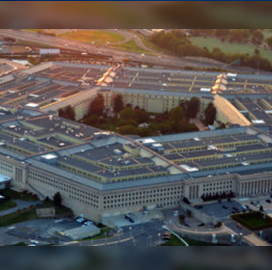 DOD to Retain Teleworking Capabilities After Pandemic
The Department of Defense plans to retain many of its new teleworking capabilities even after the coronavirus pandemic to establish a digitally connected workforce.
DOD Chief Information Officer Dana Deasy touted the effectiveness of the Pentagon's expanded bandwidth and network access and additional devices. Bradford Shwedo, CIO for the Joint Chiefs of Staff, said the information technology transformation could have taken years to implement if not for the threat of the pandemic, FedScoop reported Monday. 
Deasy highlighted the DOD's launch of the Commercial Virtual Remote environment, a cloud platform co-built by Microsoft to transfer hundreds of thousands of users per day.
However, DOD will likely not retain the CVR platform and is gauging when the system will be shut down, Deasy said. 
Category: Popular Voices
Tags: bandwidth Bradford Shwedo CVR Environment Dana Deasy Department of Defense enhanced IT FedScoop Microsoft Popular Voices telework virtual private network