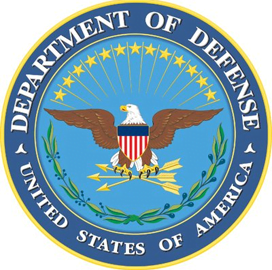 DoD Working to Establish Enterprise-Wide Standards, Best Practices for AI Programs
The Department of Defense is working on coordinating its enterprise-wide artificial intelligence efforts by establishing a series of technical standards and best practices.
Mark Lewis, director of research and engineering for modernization within the Office of the Director of Defense, is leading the charge in corralling all AI programs, which are spread out across the R&E office, the Joint Artificial Intelligence Center, the Defense Advanced Research Projects Agency and in each of the armed services.
Speaking at an AFCEA-hosted event, Lewis said the effort is aimed at breaking down stovepipes and activities relative to AI to enable the department to share databases and applications, as well as to identify what AI applications would be most impactful in the battlefield, C4ISRNET reported.
Ultimately, the goal is to deploy AI capabilities to warfighters and have them conduct field-testing and experiments so they can discard weapons that fall short of their standards.
The decision to develop best practices for AI programs came about when Lewis faced difficulties in getting a clear picture of where the department stood AI-wise. According to Jill Crisman, a technical director on AI inside the R&E team, it was not feasible to do a fair evaluation of each individual activity, considering the sheer number of programs.
Potentially adding to the DoD's problems are uncertainties about the defense budget amid the COVID-19 pandemic. Asked about the implication of the current economic situation for the fiscal 2022 R&D budget, Lewis said he has no indication of potential cuts. With the budget cuts in mind, Lewis called for protections to small key nodes in the supply chain for R&E priorities, including specialty shops that produce components for directed energy or hypersonic weapons.
Category: Popular Voices
Tags: artificial intelligence C4ISRNET database Department of Defense emerging technology Mark Lewis Popular Voices