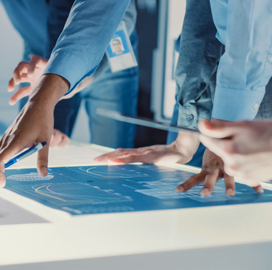 Research and development
DOD Working to Expand Joint Experiments With Allies, Official Says
The Department of Defense has discussed its research and development priorities with Australia, Japan, Latvia, Germany and the United Kingdom, the Pentagon's technology chief said.
Heidi Shyu, the undersecretary of defense for research and engineering and a speaker at a past Potomac Officers Club event, said the list of technology priorities includes artificial intelligence, autonomy, integrated networking, anti-missile high-energy lasers, space systems and hypersonic weapons, Defense News reported Tuesday.
The DOD also wants to encourage joint experiments in concepts such as joint warfighting and all-domain command and control, Shyu said during an event at the Carnegie Mellon University's Software Engineering Institute.
The military branches are currently carrying out a sweeping modernization project to enable Joint All-Domain Command and Control, the DOD's concept of connecting sensors from all warfighting domains into a single network.
Shyu said the department hopes to create more opportunities to include allies and partners in its joint experiments. She added that two joint projects with Australia and one with the United Kingdom are scheduled for fiscal year 2023.
The United States previously partnered with the United Kingdom and Australia to form AUKUS, an alliance aimed at building out capabilities in cybersecurity, AI, quantum computing and other emerging areas.
Shyu also highlighted the DOD's prioritization of microelectronics, a technology whose industrial base is suffering global shortages and supply chain disruptions.
In June, the Senate passed a $250 billion industrial bill that includes $52 billion for semiconductor research and manufacturing initiatives, CNBC previously reported.
Shyu said the DOD is drafting a new organizational chart that would define new advanced computing roles within its research and engineering directorate.
Category: Speaker News
Tags: artificial intelligence AUKUS Defense News Department of Defense emerging technology JADC2 joint experiment joint warfighting microelectronics semiconductor industry