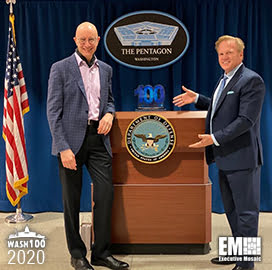 Michael Conlin and
Jim Garrettson
DoD's Michael Conlin Receives First Wash100 Award From Executive Mosaic
Michael Conlin, the Department of Defense's chief business analytics officer, has received his first Wash100 award from Executive Mosaic.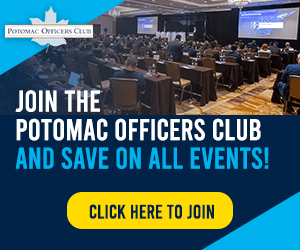 Executive Mosaic CEO Jim Garrettson presented the award in recognition of Conlin's efforts to push data science in the Pentagon and to improve department culture through talent recruitment. 
Conlin served as the DoD's chief data officer before he took on his current role in June 2020. As CDO, he advocated for information technology systems and technology, as well as clean and reliable data use. 
In a recent interview with SiliconANGLE, Conlin discussed the cultural changes in the DoD, improving data visibility and the evolving role of CDOs. 
"This is ultimately about improving affordability and performance of the Department," he said. "What's the data, who can access it under what policy for what purpose, roles and responsibilities, identity management, all of this is a combined set of solutions that we have to put in place. That's the essence of the role," he said. 
Prior to joining the Pentagon, Conlin was vice president and chief technology officer of defense at Perspecta. He also held similar roles at DXC Technology, where he was responsible for growing employees' technical capabilities. 
Conlin spent the bulk of his early career holding chief technologist roles at Hewlett Packard Enterprise.
He earned a bachelor's degree in psychology from the University of Pittsburgh and a master of business administration from the university's Joseph M. Katz Graduate School of Business. 
Executive Mosaic annually presents Wash100 awards to executives and government leaders who demonstrate skills in leadership, innovation, reliability, achievement and vision. 
Category: Popular Voices
Tags: chief business analytics officer chief data officer Chief Technology Officer culture data science Department of Defense DXC Technology Executive Mosaic GovCon Wire Jim Garrettson MBA Michael Conlin Pentagon Perspecta Popular Voices psychology SiliconANGLE University of Pittsburgh Wash100