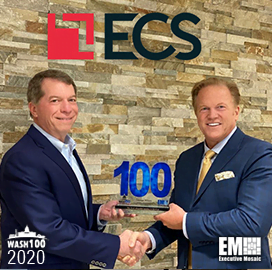 George Wilson and
Jim Garrettson
ECS CEO George Wilson Bags Third Consecutive Wash100 From Executive Mosaic
ECS Federal President and CEO George Wilson, a Potomac Officers Club member, has received his third consecutive Wash100 award for his impact on the government contracting sector.
Executive Mosaic founder and CEO Jim Garrettson presented the award to Wilson in recognition of his leadership in driving innovation in cybersecurity, information technology modernization and emerging technologies, GovCon Wire reported.  
Under Wilson's leadership, ECS Federal received a Platinum Technology Partner designation from Attivo Networks as part of a partnership to introduce deception technologies to the government and commercial cybersecurity markets. 
"Our focus on machine learning, cybersecurity and innovation is in lockstep with the work being done at Attivo. We're committed to bringing these powerful tools and strategies to our customers," Wilson said. 
Wilson also helped the company win a potential four-year $116M contract from the Naval Information Warfare Center's defense health information technology division to update the Military Health System's IT infrastructure. 
ECS Federal also leads the Federal HIT Infrastructure Service Modernization effort, which provides technical development and system maintenance support to the Department of Homeland Security and other government health agencies. 
ECS Federal is an IT services company that offers network engineering, help desk operations, data quality, systems integration, web development and program management services. 
Wash100 is an annual selection of the most influential personalities in government contracting. The award honors executives and government officials who have demonstrated skills in leadership, innovation, reliability, achievement and vision in the sector.
The recipients of the award are determined through nominations from the government contracting community and the discretion of the Executive Mosaic team.
Category: Member News
Tags: AI artificial intelligence ECS Federal Executive Mosaic George Wilson govcon government contracting information technology IT Jim Garrettson machine learning Member News MHS Military Health System modernizaiton Naval Information Warfare Center NIWC Wash100