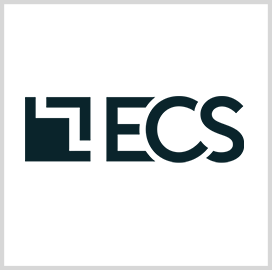 ECS
ECS Launches Cloud CoE 2.0 Initiative
ECS has announced the launch of its Cloud Center for Excellence 2.0 Initiative, promising greater investment and innovation in cloud computing technology. 
Cloud CoE 2.0 will be led by Imran Bashir, ECS' chief technical officer of cloud computing and vice president of emerging technologies. 
"With Dr. Bashir's leadership, the Cloud CoE will continue to help companies orchestrate their cloud initiatives and manage the cloud adoption lifecycle—from strategy, roadmap, design, migration, and application modernization to cybersecurity, compliance, and ongoing operations and support," said ECS President George Wilson, a Potomac Officers Club member and a three-time Wash100 awardee.
Bashir is a cloud technology expert who boasts over 25 years of experience with enterprise-level software systems, big data solutions, cloud computing, cloud economics, serverless computing, artificial intelligence and machine learning systems. 
He has managed complex data and application migration projects into the cloud by setting standards for system architecture and guidelines for cloud deployment and operations. 
ECS said Bashir's team will provide cloud support across the company, while the larger cloud community will have access to Cloud CoE resources for individual programs. 
The company added that it will offer the full range of cloud benefits for governance at scale, security and compliance and AI applications.
"Companies are no longer adopting cloud for one or two projects, but across their entire enterprises. The Cloud CoE 2.0 initiative combines expert data scientists, cloud architects, and engineers with the resources, knowledge base, and processes to guide ECS' customers on their journeys to the cloud," Bashir said. 
ECS is a division of ASGN that provides solutions in cloud, cybersecurity, AI, machine learning, application and information technology modernization, science and engineering. 
Category: Member News
Tags: AI artificial intelligence big data Cloud Center of Excellence 2.0 Cloud CoE cloud computing compliance cybersecurity ECS Emerging Technologies emerging technology enterprise George Wilson Imran Bashir IT Modernization machine learning Member News Potomac Officers Club security software system architecture Wash100