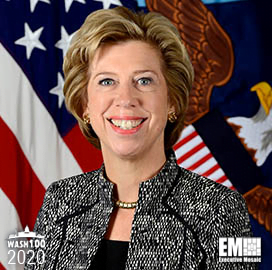 Ellen Lord
DOD acquisition chief
Ellen Lord: Defense Industry Can Stay Open Despite Rising Coronavirus Cases
Undersecretary of Defense for Acquisition and Sustainment Ellen Lord said she is confident that the defense industrial base will remain open despite the increasing number of coronavirus cases in the sector.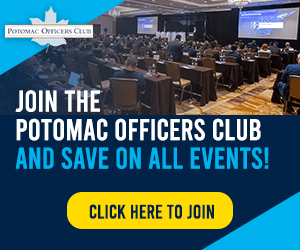 Lord, a past Potomac Officers Club event speaker, said the defense industry's safety measures throughout the pandemic has allowed the sector to avoid the worst-case scenario, Defense News reported. 
"I'm optimistic that although cases are going up, industry is going to continue to be very resilient, and we will continue at pretty impressive productivity rates," Lord said during the American Institute of Aeronautics and Astronautics' ASCEND space ecosystem event. 
Earlier in 2020, nearly 700 defense contractors halted operations in a bid to limit the spread of the disease, according to the Defense Logistics Agency and the Defense Contracts Management Agency. The number dropped to 33 businesses by June.
Lord said the White House is working out whether or not the defense industrial base would get priority access to coronavirus vaccines. The defense industry is designated as an "essential" sector during the pandemic.
Pharmaceutical company Pfizer recently said it has concluded the Phase 3 study of its coronavirus vaccine candidate, meeting all primary efficacy requirements. The company said the drug is 95 percent effective in preventing the virus. 
According to data from the Centers for Disease Control and Prevention, the number of confirmed coronavirus cases in the United States has been rising since the end of September. The number of new cases reached a high of nearly 195K on Nov. 12, CDC reported.
Category: Speaker News
Tags: American Institute of Aeronautics and Astronautics coronavirus coronavirus vaccine COVID-19 Defense Contracts Management Agency Defense Industrial Base Defense Logistics Agency Defense News DefenseNews Ellen Lord Pentagon Pfizer Phase 3 Speaker News Wash100