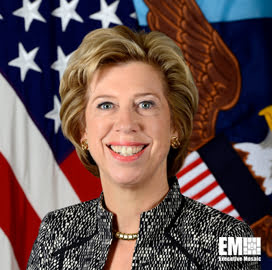 Ellen Lord
Ellen Lord: DOD Must Modernize IT Systems to Support Second-Wave Pandemic Response
The Department of Defense needs modern information technology systems to handle the logistics of the second wave of the coronavirus pandemic, according to the department's top acquisition official.
Ellen Lord, the Pentagon's undersecretary for acquisition and sustainment and a 2020 Wash100 awardee, said the DOD needs to upgrade its network to track critical supply chains and shipments of personal protective equipment, FedScoop reported Thursday. 
"We want to make sure we get irreversible momentum so we leave behind a sustainable acquisition and distribution system that can be utilized in the future," Lord said during a House Armed Services Committee hearing. 
She said the DOD, in partnership with agencies like the Department of Health and Human Services, must pursue new technologies to support the logistical needs of health-related agencies in their own acquisitions.
The Pentagon has so far been advancing emerging data technologies through its Joint Artificial intelligence Center to monitor supply chains and predict panic buying.
DOD should also examine the risks of its industrial base, which includes a chain of over 300K companies and subcontractors, Lord said.
She added that smaller companies at the end of the supply chain are the most vulnerable to the economic issues caused by the pandemic. 
Lord said the Department of Defense overall does not have sufficient tools for closely monitoring its supply chains, saying only some divisions like the Navy have such tools. 
"We have been gaining in our knowledge, which I would say is still insufficient," Lord said. 
Category: Popular Voices
Tags: acquisition artificial intelligence COVID-19 Department of Defense Ellen Lord FedScoop IT Modernization JAIC Popular Voices supply chain U.S. Congress