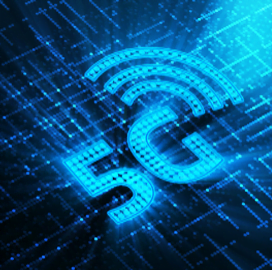 5G
Ellen Lord Underscores DOD's Investment in 5G
Ellen Lord, undersecretary of defense for acquisition and sustainment, told attendees at MITRE's 5G Summit that the Department of Defense is heavily invested in 5G use cases to demonstrate how they tie into the National Defense Strategy. 
According to Lord, a 2020 Wash100 winner and past Potomac Officers Club event speaker, the DOD is keen on enhancing 5G technology and investing in future "Next-G" systems to support all warfighting functions, including fires, command and control, intelligence, movement and maneuver.
The acquisition czar explained that local and expeditionary 5G networks will enable future warfighters to move massive amounts of data to connect distant sensors and weapons into a dense, resilient battlefield network, National Defense Magazine reported. 
DOD-led 5G experiments have been underway since the release of the National Defense Strategy. In October, the department awarded $600M in support of experimentation and testing for 5G dual-use applications at five U.S. military test sites, namely the Hill Air Force Base, Utah; Joint Base Lewis-McChord, Washington; Marine Corps Logistics Base Albany, Georgia; Naval Base San Diego, California; and Nellis Air Force Base, Nevada.
Michael Kratsios, U.S. chief technology officer, acting undersecretary of defense for research and engineering and 2020 Wash100 winner, said in a briefing that the experiments comprise the largest full-scale 5G test for dual-use applications across the globe. 
The select military installations will work in collaboration with military services, industry leaders and academic experts to advance the DOD's 5G prototyping efforts. 
Experiments at Hill AFB, for example, will focus on dynamic spectrum sharing. Joseph Evans, DOD's principal director for 5G, noted that the experiments will utilize the mid-band spectrum to determine how 5G systems and high-barrier airborne radars impact one another.
Officials from Joint Base Lewis-McChord will test augmented reality/virtual reality capabilities while those at Naval Base San Diego will focus on smart warehousing and transshipment between shore facilities and naval units.
Lord said initial 5G experiments at the military bases will begin within the year to be followed by full-scale experimentations next year.
Category: Speaker News
Tags: 5G development Department of Defense DoD Ellen Lord Michael Kratsios National Defense Magazine National Defense Strategy Next-G Pentagon Speaker News