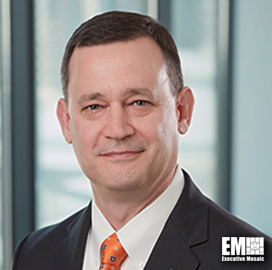 Executive Profile: John Coleman, Peraton's President for Defense, Homeland Security
John Coleman serves as Peraton's president for the defense and homeland security sectors. He is responsible for the sector's strategy development and execution, program performance and growth objectives. 
His team is in charge of research and development programs that support military laboratories, the Defense Advanced Research Projects Agency and the Intelligence Advanced Research Projects Agency.
Coleman's sector provides services such as technology integration, engineering, logistics and mission support to federal civilian agencies, according to his LinkedIn profile.  
Before he joined Peraton in February 2018, Coleman served as the president of OMNIPLEX World Services' investigative services group.
He managed over 2K employees and was responsible for ensuring proper customer relationships and program performance. 
Prveiously, Coleman spent four years as PAE's vice president of identity and information management solutions, focusing on customers from federal civilian agencies. 
Coleman joined FCi Federal in March 2012 and served as the vice president of its service center operations division. He was also responsible for profit and loss for business line operations.
He spent eight years as a program manager at Northrop Grumman. Coleman was in charge of large government contracts, with a focus on customer contractual and internal financial goals in the firm-fixed-price environment.
His other prior roles include business manager at IMDb .com and chief operating officer at Register123 .com.
Coleman earned a bachelor's degree in management and a master's degree in business administration and management from Clemson University.
Category: Executive Profiles
Tags: Clemson University Defense and Homeland Security Executive Profiles FCi Federal IMDb .com John Coleman LinkedIn Northrop Grumman OMNIPLEX World Services PAE Peraton President Register123 .com