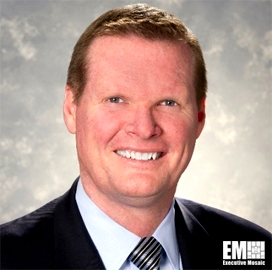 Executive Profile: Mike Edwards, SVP for Strategic Growth at Maxar Technologies
Michael "Mike" Edwards serves as the senior vice president for strategic growth at Maxar Technologies, a defense and space company based in Westminster, Colorado, that specializes in satellites, Earth imagery, geospatial data and analytics.
In his current position, Edwards manages the growth of the Maxar Technologies portfolio, which includes vertically integrated capabilities in satellite communications, ground infrastructure, Earth observation, advanced analytics, insights from machine learning, next-generation propulsion, space robotics, on-orbit servicing, on-orbit assembly, and protection of space assets through cybersecurity and monitoring of space systems.
Edwards has over three decades of experience and skills in creating business strategy/development and advancing customer engagement efforts aimed at space, directed energy and electronic warfare, according to his LinkedIn profile. 
Most recently, the executive served as the vice president for senior advisor defense programs at DigitalGlobe, which was acquired by Maxar in October 2017. In the said role, he provided strategic leadership across various defense programs, including the company's work with the Department of Defense and collaboration with aero-defense companies.
Edwards also spent nearly 11 years as a corporate director for Northrop Grumman's space, intelligence and cyber business, as well as the company's cyber and command, control, communications, computers, intelligence, surveillance and reconnaissance unit. 
The executive moved to the private sector after a 10-year tenure in the U.S. Air Force, where he created cost-effective solutions as the leader of the service's directed energy task force. He was also appointed as director of operations Air Force combat support office within the DoD.
He completed his bachelor's degree in science and general studies from the Air Force Academy and a master's degree in aeronautical science from Embry-Riddle Aeronautical University.
Category: Executive Profiles
Tags: Digital Globe Executive Profiles LinkedIn Maxar Technologies Mike Edwards Northrop Grumman Senior Vice President U.S. Air Force