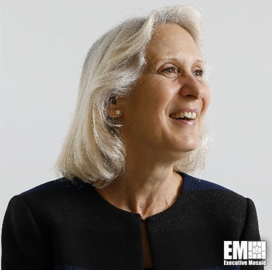 Executive Profile: Tina Kuhn, President, CEO of CyberCore Technologies
Tina Kuhn has been serving as president and chief executive officer of CyberCore Technologies, an end-to-end information technology and cyber services provider, for over three years. 
She has demonstrated leadership experience for 35 years, serving a variety of customers, including the intelligence community agencies, defense, state and local governments, as well as international customers.
Kuhn has gained expertise in strategy development and implementation, organizational transitions, financial improvements, management of profit and revenue, marketing, staffing, budgeting, mentoring, talent acquisition, cybersecurity and personnel management, according to her LinkedIn profile.
 
Most recently, Kuhn was elected as a board member of the AFCEA Central Maryland Chapter and the Howard County Public Schools Early College Program. 
She was also a two-year senior vice president at Sotera Defense Solutions, where she led the company's cyber systems and solutions division. 
In addition, she was appointed as vice president of Northrop Grumman. In this role, she was responsible for a 1.4K-member cybersecurity business unit that generates an annual revenue of $450M. She also led engagements with the U.S. Army, Navy Air Force and the Marine Corps.
In 2017, she was included in WashingtonExec's list of Top 25 Leaders in Government Contracting You Should Know About.
She is also the author of the book titled, "The Manager's Communication Tool Kit: Tools and Techniques for Leading Difficult Personalities."
Kuhn graduated from the University of Maryland with a degree in information systems management.
Category: Executive Profiles
Tags: CEO CyberCore Technologies Executive Profiles LinkedIn President strategy development Tina Kuhn