Chris Hegedus
SVP
Booz Allen Hamilton
Executive Spotlight: Chris Hegedus, Senior Vice President at Booz Allen Hamilton
Booz Allen Hamilton Senior Vice President Chris Hegedus recently spoke with the Potomac Officers Club to share his advice for adapting, growing and succeeding in government contracting, as well as executing a winning leadership strategy. Hegedus is a leader in Booz Allen's civil business, and he manages operations for the company's domestic resilience practice.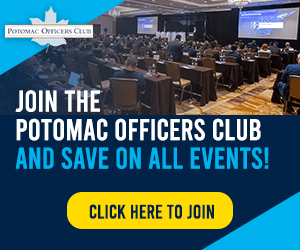 Prior to joining Booz Allen, Hegedus spent time at companies such as Accenture, SAIC and General Dynamics Information Technology. Read below for Hegedus' full Executive Spotlight interview.
What can you tell us about your background and how you've been able to adapt to the ever-changing challenges of the federal landscape over the course of your career?
I was a liberal arts major out of undergrad and was hired into a technical consulting job where I learned technology through on-the-job training. The combination of non-technical foundation with learned technical expertise has helped me better understand both the mission and technical needs of my federal government clients. I have lived my career at that intersection of mission and technology. The most impactful systems and solutions I helped build were those that directly impacted the daily jobs of my customers.
Over my career, I have seen several cycles of purchasing styles and technology preferences and have had to adapt how my teams and I worked with our clients. For example, I have seen agencies alternate between buying outcomes and buying labor, and I have had to adapt both my messaging and how we deliver effectively for our customers.
What are the core values that you believe are essential to build a great team and establish a foundation to drive success in such a competitive industry?
My fundamental core value is integrity. This manifests itself through clear, accurate and direct dialog with my customers and with my team. I believe it is important to (politely) speak truth to power whether that be with my clients or my management. Similarly, it is critical to give clear feedback to staff including both praise for accomplishments and direct recommendations for improvement. Some of the proudest moments of my life have come from watching people learn from mistakes and grow. Similarly, the best relationships I have had with customers were those where they saw me as an advisor and a partner who had a shared interest in their mission's success.
How would you advise someone entering our industry to build their resume and advance their careers to be in the best position in the years to come?
For people entering the industry at the start of their career, I look for people who bring energy and who demonstrate engagement. You can't overstate how important it is for an applicant to let their passion come through on a resume. This passion could be for a technology, a mission or a capability.
For experienced candidates entering our industry, what I look for most is demonstrated expertise in a discipline combined with the aptitude to learn new processes. The federal market has a steep learning curve for experienced staff, so showing the patience to learn the market and its nuances is key.
With emerging technology influencing the federal government and industry more by the day, what are some of the challenges on the business side of innovation that aren't always discussed as often as they should be?
Emerging technology creates amazing opportunities for federal agencies to improve their operations. However, from a business perspective, the biggest issue is unforeseen cost related to the new technology. A great example is that we've seen agencies underestimate the costs associated with moving data back and forth to the cloud. To make effective use of new technologies, agencies should model out how those could benefit their mission use case and determine if they need to make business changes to optimize and efficiently adopt the technology.
In general, I have seen agencies overly focus on the technology itself and not on the downstream impact. As an example, I have done several low code/no code implementations. These products are amazing accelerators but don't perfectly mimic what fully customized solutions can do. To effectively use these tools, agencies sometimes need to adapt their business processes to the capabilities of the tool (versus adapt the tool to the processes, as is typical with custom code). By assessing the business impact of new and emerging technology, they can get a better total cost of ownership and mitigate downstream risk.
Category: Member News
Tags: Booz Allen Hamilton Chris Hegedus executive spotlight govcon