Lynne Chamberlain
President & CEO
Rancher Gov't. Solutions
Executive Spotlight: Lynne Chamberlain, President & CEO of Rancher Government Solutions
Lynne Chamberlain, president and CEO of Rancher Government Solutions, recently spoke with the Potomac Officers Club about her career journey in the government contracting industry, some of her key accomplishments thus far and her thoughts on improving critical government processes. In her Executive Spotlight interview, Chamberlain also shared her thoughts on women in technology and the characteristics that make a winning team.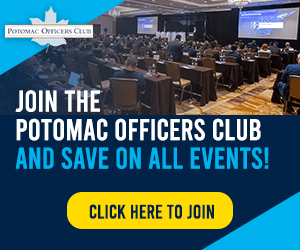 What can you tell us about your background and how you've been able to adapt to the ever-changing challenges of the federal landscape over the course of your career?
Well, I began my career selling into the federal government and the military. I come from a military family, and I went to college on the GI Bill. My sister is in the military, so from very early on, I understood the military and what it offered people. Now, at Rancher, I'm still selling to the government and supporting the warfighter and working to make their jobs easier. Every company I've been at — I spent 16 years at RedHat, three years at Unisys, five years at NetApp and 10 years at HP — has been mission-oriented. It's been exciting to see all the change but also the continued and important focus on the warfighter and meeting their needs.
If your career came to an end tomorrow, what would you say would have been the most significant accomplishments of your career? Where do you feel you made the most impact?
I'd say hiring women in technology and seeing their growth. I'm a big believer in women supporting other women and am always the first to hire women. Half of my team at RedHat was women, in fact. Beyond that, I'm a mother of a daughter, and a grandmother of a granddaughter, and I want them both to know that they can do anything — that there are no limits on their potential.
What are the core values that you believe are essential to build a great team and establish a foundation to drive success in such a competitive industry?
You have to have a deep and sincere knowledge of competitors and where you stand out. You have to really understand your own business well. Without those two things, you can't be a top performer. I'd also say you need to set the highest standards for yourself and for those around you. If you know your competition, know your own business and can talk about the value it brings to customers, and if you hold yourself to high standards, you'll do incredible things.
If you were given free rein to enact changes in the federal landscape, what are the first three changes you would implement and why?
Number one: the acquisition process. Number two: the acquisition process. And number three: the acquisition process. It's too long and needs to be changed. The reality is that today, with technology changing as fast as it does, the government often doesn't get what it wants. The process should be more like it is in the commercial space — faster, less restrictive and with the opportunity to try things before you buy them. The missions we support are too important and too complex for it to be any other way.
With emerging technology influencing the federal government and industry more by the day, what are some of the challenges on the business side of innovation that aren't always discussed as often as they should be?
As I mentioned a moment ago, I think there need to be more try-before-you-buy opportunities. That's especially important when it comes to emerging technology — which we focus on at Rancher. The last thing you want is for an agency to use something that is expensive and doesn't meet the mission. At Rancher, we're not afraid of proof of concepts; we're not afraid of being benchmarked against other options. In fact, quite the opposite. We believe in POCs and opening our doors in terms of how we price things, how we support our partners and how we work. This past year we launched two new products — Carbide and NeuVector — and we welcomed trial periods because we believe so strongly in what we build, how easy our solutions are to use and how we price that we have no doubt we'll win customers that way. I think there needs to be more of that, and that's how we'll spur true innovation within agencies.
Category: Member News
Tags: executive spotlight govcon Lynne Chamberlain Rancher Government Solutions RGS