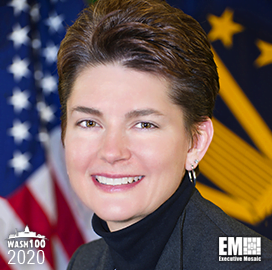 Maria Roat
Deputy Federal CIO
OMB
Federal CIO to Launch Data Science Training for Government Employees
Deputy Federal Chief Information Officer Maria Roat, a past Potomac Officers Club event speaker and a 2020 Wash100 awardee, has announced that the CIO Council plans to launch a data science training program for reskilling government employees later in August.
Her announcement followed the release of the Federal Information Technology Acquisition Reform Act scorecard on Monday, FedScoop reported Monday.
"Just as important as we consider any technology investment, we should also remember that the people charged with using those solutions must also be skilled in the use of technology," Roat said during the FITARA 10.0 hearing held by the House Oversight Subcommittee on Government Operations.
FITARA is a 2014 law that was introduced to overhaul how the federal government procures and manages computer technology. It was passed into law as part of the National Defense Authorization Act for 2015.
According to Roat, about 2M civilian personnel rely on technology to do their duties, making training and funding a prime consideration in improving in the scorecard. 
Roat said the data science program will be comparable to the Federal Cyber Reskilling Academy, which she said has led to the creation of new government cyber jobs at the Environmental Protection Agency and the departments of Homeland Security and Veterans Affairs.
"As the pace of capability and threat continues to accelerate, we must invest in our workforce to keep their skills relevant."
Cameron Chehreh, vice president of presales engineering at Dell Technologies Federal, said workforce transformation at federal agencies is slow because the priority is put on using IT for missions instead of training.
Category: Speaker News
Tags: Cameron Chehreh Dell Technologies Department of Agriculture Department of Veterans Affairs Environment Protection Agency EPA Federal Cyber Reskilling Academy Federal Information Technology Acquisition Reform Act FedScoop FITARA Maria Roat Speaker News USDA VA