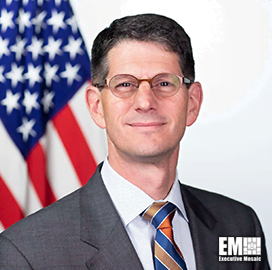 Grant Schneider
Federal CISO
OMB
Federal CISO Grant Schneider to Leave Role for Private Sector
Grant Schneider, a speaker at a past Potomac Officers Club event, is set to leave his post as federal chief information officer to join the Venable law firm as its senior director of cybersecurity services. 
Schneider, who joined the Office of Management and Budget as federal CISO in 2016, has served in the government since 1993, Federal News Network reported Tuesday.
"From time to time, I contemplate what's next for me and I've been having that conversation with myself and thought it good timing for me to move on. We have gotten a lot done in the last two years that I've been Federal CISO and really over the last five years since I've been at OMB," Schneider told Federal News Network. 
Schneider, who also serves as a co-chairman of the Federal CISO Council, concurrently served as the senior director of cybersecurity policy for the National Security Council until he left the role in February. 
Josh Moses, the former chief of the federal CIO office's cyber and national security branch, credited Schneider with setting the standard for cybersecurity leadership, providing vision and guidance and implementing program and performance enhancements. 
"He is always willing to take the time to meet with agency leadership, understand their challenges, and develop mutually agreeable approaches for tackling the tough issues," Moses said. 
At Venable, Schneider is expected to continue working in the areas of cybersecurity enhancements, cloud services, supply chain risk management and identity management. 
There is no incumbent deputy federal CISO, and there have been no announcements on who will be acting as federal CISO. 
Category: Speaker News
Tags: cybersecurity executive move Federal CISO Council Federal News Network Grant Schneider identity management Josh Moses National Security Council OMB risk management Speaker News supply chain Venable