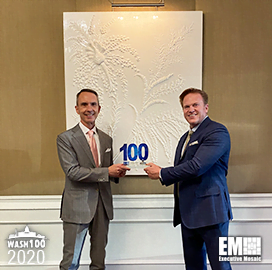 Andrew Hallman and
Jim Garrettson
Former ODNI Exec Andrew Hallman Bags First Wash100 Award
Andrew Hallman, former principal deputy director for the Office of the Director of National Intelligence, has received his first Wash100 award from Executive Mosaic.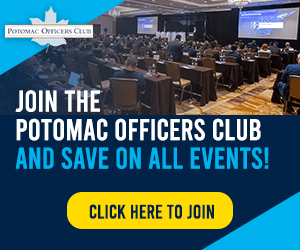 Executive Mosaic CEO Jim Garrettson presented the award to Hallman, a past Potomac Officers Club event speaker, in recognition of efforts to develop new security and cybersecurity initiatives in both the public and private sectors.
"The vital intelligence our IC professionals provide to the nation's leaders will continue to protect Americans and defend the values for which so many have paid the ultimate sacrifice. The excellence that is the keystone of the IC — the hallmarks of our work — will continue to thrive," Hallman said as he stepped down from ODNI in February.
From ODNI, he rejoined the CIA to serve as the deputy for digital innovation, overseeing digital and cyber integration efforts across the agency's mission areas. 
In February 2019, Hallman helped the National Counterintelligence and Security Center develop the National Counterintelligence Strategy of the United States of America 2020-2022. 
The plan included a new approach to counterintelligence in response to the rapid evolution of threats since the last edition of the strategy in 2016.
Before he joined ODNI, Hallman served as the director of the CIA's Office of Transnational Issues, where was responsible for leading analysis of global national security challenges and for developing advanced analytics. 
Hallman earned a master's degree in international affairs from American University's School of International Service and a bachelor's degree in public affairs management from Michigan State University. 
Executive Mosaic is a leadership organization and media company headquartered in Tysons Corner, Virginia. The company issues the annual Wash100 awards to recognize government contracting executives who demonstrate skills in leadership, innovation, reliability, achievement and vision.  
Category: Speaker News
Tags: American University Andrew Hallman CIA cybersecurity Executive Mosaic GovCon Wire Jim Garrettson Michigan State University Office of the Director of National Intelligence Office of Transnational Issues School of International Service security Speaker News Tysons Corner Virginia Wash100