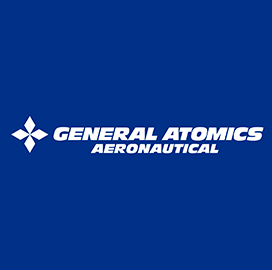 GA-ASI
GA-ASI Conducts Captive Carry Sparrowhawk Flight Tests
General Atomics Aeronautical Systems Inc. announced that it has flight-tested the Sparrowhawk small unmanned aircraft system in a captive carry configuration. 
According to AS-ASI, the Sparrowhawk is a launch and recovery aircraft designed with a focus on the Advanced Battle Management System's attritableONE technologies. 
"Sparrowhawk extends and multiplies MQ-9-based sensors, reduces manpower and increases ISR coverage. With attritableONE technology that is survivable and precise, Sparrowhawk is a true game changer," GA-ASI  President David Alexander said.
The aircraft is based on the Defense Advanced Research Projects Agency's Gremlins Program but with lower costs of operations and offers new capabilities on the MQ-9 remotely piloted aircraft.
GA-ASI said it controlled the Sparrowhawk exclusively using the company's Metis software-defined control station hosted on a laptop, which the company said allowed for lower a logistical footprint, among other benefits. 
A fielded meshONE datalink was used to enable collaborative autonomy capabilities among the platforms. 
GA-ASI said it used the Cooperation in Denied Environments autonomy engine to better understand the thought process of the unmanned system's artificial intelligence.
The Sparrowhawk allows below-the-weather intelligence, reconnaissance and surveillance; enables attritable electronic warfare in contested environments; employs larger payloads at greater transit ranges; and maintains the chain of custody through adverse weather and different MQ-9 rotations.
GA-ASI is an affiliate of General Atomics that specializes in designing and manufacturing remotely piloted aircraft systems, radars, electro-optics and related mission systems. 
The company also produces a range of ground control stations and sensor control software, offers pilot training and support services and develops meta-material antennas. 
Category: Future Trends
Tags: Advanced Battle Management System AI artificial intelligence attritableONE Cooperation in Denied Environments DARPA Gremlins Program David Alexander electro-optics Future Trends GA-ASI General Atomics Aeronautical Systems MQ-9 Sparrowhawk Sparrowhawk Small Unmanned Aircraft Systems sUAS unmanned systems