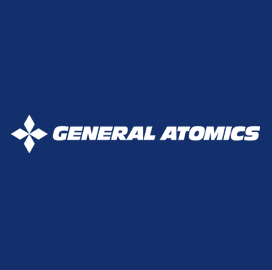 General Atomics
GA-EMS to Advance Railgun Technology for Army DEVCOM AC
General Atomics Electromagnetic Systems has been awarded a contract modification to develop and mature hypersonic projectiles Army Combat Capabilities Development Command Armaments Center.
The projectiles will allow the interception of moving airborne targets during live-fire events scheduled through the end of 2021, GA-EMS said. 
"This is a critical next step toward the goal of integrating guided projectiles for railgun technologies into the air and missile defense command network, and closing the fire control loop to enable precision engagement and intercept of airborne targets," said GA-EMS President Scott Forney. 
He said that the company will work closely with the Army's DEVCOM AC to allow the technologies to provide greater defended range and strike capabilities for air and missile defense and long-range precision-fire missions.
GA-EMS said it will manufacture guided projectiles for test firings from the Navy's railgun at the White Sands Missile Range, New Mexico, using the service's armature ad sabot package.
The company said it has also made a significant investment in internally advancing and maturing critical gun-hardened guidance electronics, projectile structural components and mechanical systems. 
Nick Bucci, vice president of missile defense and space systems at GA-EMS, said the company has a track record of verifying the survivability of its projectiles. 
The new projectiles for the new contract will include the company's fourth-generation guidance electronic units and enhanced telemetry components, he said.
"We are looking forward to verifying the projectiles' capability to sustain data links, control its trajectory via actuated control surfaces using command guidance, and hit moving airborne targets, all while undergoing incredible G-forces and at hypersonic speeds," Bucci added.
GA-EMS is a designer and manufacturer of novel electromagnetic and electric power generation systems. The company has a portfolio of solutions that support aviation, space systems, satellites, missile defense, power and energy and processing and monitoring applications. 
Category: Future Trends
Tags: DEVCOM AC electronic warfare Future Trends GA-EMS General Atomics hypersonic Nick Bucci railgun Scott Forney White Sands Missile Range