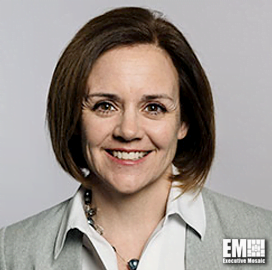 Kristie Grinnell
Global CIO
GDIT
GDIT Global CIO Highlights Importance of Hybrid Cloud for Agencies
Government agencies must adopt hybrid cloud environments to mix and match what types of "as-a-service" offerings they need, according to an information technology executive.
Kristie Grinnell, General Dynamics IT's global chief information officer and vice president for supply chain, said the right mixture of cloud environments is determined by an agency's data requirements, security requirements, end-user location, and interoperability requirements, FedScoop reported.
"It is rare that you would find one cloud is the best for all of your data and workloads. And, government agencies need to be able to manage and govern these multiple environments as one hybrid enterprise, seamlessly and efficiently," said Grinnell, a Potomac Officers Club member.
Software company Citrix described hybrid cloud as a solution that combines private and public cloud services using proprietary communication tools. The solution is designed to provide greater flexibility by moving workloads between cloud solutions as needed, Citrix said. 
Grinnell said a hybrid cloud environment could include on-premise software such as ones that run in data centers. Hybrid cloud environments could also include multiple cloud providers like Amazon Web Services, Azure, Google, Oracle and IBM, she added.
She highlighted the importance of an enterprise architecture as a standardized way of accessing different types of cloud environments. 
A sound enterprise architecture allows an organization to confidently accept or decline new technologies and capabilities offered by cloud service providers, Grinnell said. 
Grinnell urged agencies to focus on the mission and the warfighter. 
Category: Member News
Tags: agency AWS Azure Google CIO Citrix enterprise architecture FedScoop GDIT hybrid cloud IBM information technology IT Kristie Grinnell Member News Oracle