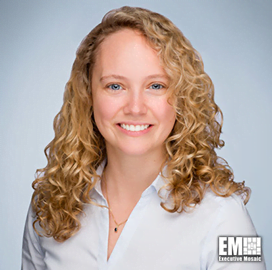 Amanda Axsom
Chief Development Officer
Halfaker and Associates
Halfaker Names Amanda Axsom as Chief Development Officer
Halfaker and Associates, a technology solutions company, has announced the appointment of Amanda Axsom as the company's new chief development officer.
In her new role, Axsom will be responsible for strategic capture, solution and intellectual property development. Her functions will support and enable corporate growth, Halfaker said Tuesday. 
"Her leadership in this expanded role will drive Halfaker's ability to continue to deliver on our mission to improve the health, security, and well-being of Americans," said CEO and President Dawn Halfaker.
The Halfaker head credited Axsom with helping the company mature its capabilities across business, solutions and intellectual property development. 
Axsom previously served as Halfaker's executive vice president of business development, a role she had held since 2017. She built out the company's proposal development department and helmed the capture of the majority bids.
One of her key achievements, according to Halfaker, is the capture of the company's largest wins that contributed to over $1B in contract awards.
She also designed Halfaker's business development management framework. Her expertise includes strategic capture, financial management, program and quality management, team design and process improvement. 
Before she joined Halfaker, Axsom worked as a director at Phase One Consulting Group. She was responsible for the company's federal health portfolio and oversaw strategy capture and business development in health care.
Axsom said she is fortunate to work with Halfaker's department of high-impact experts whose efforts she said has allowed unprecedented growth at the company over the last three years.
"I look forward to this next step in collectively working to design and propose increasingly high quality, best-fit solutions to the Government's toughest challenges," Axsom said. 
Category: Partnerships and Executive Moves
Tags: Amanda Axsom business development capture Chief Development Officer Dawn Halfaker growth Halfaker and Associates Intellectual Property Partnerships and Executive Moves Phase One Consulting Group process improvement