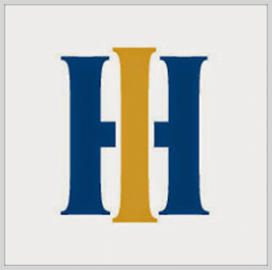 HII Division Lands $187M Amphibious Assault Ship LHA 9 Contract
The Navy has awarded Huntington Ingalls Industries' Ingalls Shipbuilding division a $187.46M advance procurement contract to provide services in support of the amphibious assault ship landing helicopter assault 9.
According to Brian Cuccias, president of Ingalls Shipbuilding, work for the contract will involve collaboration with the unit's partners from the Navy and the Marine Corps. Under the terms of the contract, the shipbuilding division will support the LHA 9 through long-lead-time material and advance procurement activities, HII said Tuesday.
Cuccias views the contract award as a means to simultaneously maintain the health of the nation's shipbuilding supplier base and continue HII's serial production of large-deck amphibious ships.
The contract, in particular, would enable the U.S. to build another highly capable, versatile and survivable warship, Cuccias added.
With the amphibious assault ship LHA 9, the shipyard effectively expands its partnership with the Navy, which dates back to 1996 when it delivered the first amphibious assault ship known as the Iwo Jima-class USS Tripoli. Ingalls holds the distinction of being the Navy's sole builder of large-deck amphibious ships, having delivered five Tawara-class LHA 1 ships, eight Wasp-class LHD 1 ships, the inaugural America LHA 6 and the Tripoli LHA 7 ship. In addition to the LHA 9 ship, Ingalls Shipbuilding is also working on the Bougainville LHA 8 ship.
Headquartered in Newport News, Virginia, HII has been providing military shipbuilding services for over a century. HII is one of the country's leading shipbuilding companies as proven by its record of building the most ships in more ship classes than any other U.S. naval shipbuilder. 
Category: Contract Vehicles
Tags: advance procurement contract amphibious assault ship Brian Cuccias contract award Contract Vehicles Huntington Ingalls Industries Ingalls Shipbuilding division LHA 9 U.S. Navy