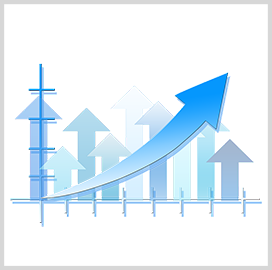 HII, Lockheed, Northrop Express Confidence for 2020, 2021
Several major defense contractors told their investors they are confident in their financial futures for 2020 and 2021 despite the coronavirus pandemic and the delayed federal budget process.
Huntington Ingalls Industries, Lockheed Martin and Northrop Grumman made their announcements during the annual Bernstein's Virtual Strategic Decisions Conference, USNI News reported Monday. 
"It will probably see some timing impact because of the coronavirus situation. We are starting to see Congress weigh in a little bit," said Marillyn Hewson, Lockheed CEO and a 2020 Wash100 winner.
Hewson added that the government is working on a defense authorization act to make for the pandemic's disruption of Congress' schedule. 
She noted that President Donald Trump and congressional leaders have locked in a maximum defense budget of $741B for fiscal year 2021.
Progressive lawmakers previously pushed back against the budget, claiming that it should not exceed 2020's top line defense budget of $738B, according to a report by Politico. 
HII CEO Mike Petters, a past Wash100 awardee, said that despite the lowest shipbuilding allocation in six years of $19.9B, the outlook for the shipbuilding industry is still "pretty bullish."
The 2021 budget slashed plans for a second Virginia-class attack submarine, which HII was scheduled to complete in partnership with General Dynamics Electric Boat.  
"When you take things out of the budget at the eleventh hour like they did, it doesn't mean that they don't like the program, it means they're trying to figure out how they're going to pay for it and when they're going to pay for it," Petters said.
Northrop CEO Kathy Warden, a 2020 Wash100 awardee, said the defense budget provides contractors with direction on where to focus research and development efforts. 
"When you look over the long-term, we believe the demand signal will be there, and there will be new requirements that create the potential for companies like ours to enter particular areas," Warden said.
She highlighted hypersonics as a technological area that will have enough demand to support three suppliers. 
Category: Popular Voices
Tags: defense budget Department of Defense Huntington Ingalls Industries hypersonics Kathy Warden Lockheed Martin Marilyn Hewson Mike Petters Northrop Grumman Popular Voices President Donald Trump U.S. Navy