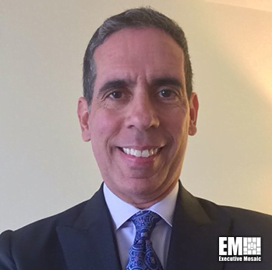 Rafael Borras
President and CEO
HSDBC
HSDBC Appoints Rafael Borras as President, CEO
The Homeland Security and Defense Business Council has announced the appointment of Rafael Borras, a 2014 Wash100 winner, as its new president and CEO, effective immediately. 
Borras most recently served at A.T. Kearney as a senior executive and expert in domestic security. His three-decade career includes stints in the federal government, city government and the nonprofit and private sectors, HSDBC said Monday.
"Rafael's extensive experience in both the public and private sectors gives him a unique understanding of the needs and priorities of the HSDBC membership, as well as our government partners," said John Saad, the organization's board chairman.
Saad added that he expects Borras contribute innovative ideas to the organization's programs and initiatives to help it bring value to its members and government partners.
Borras will also join the organization's board of directors in addition to leading and managing its day-to-day activities.
He has held leadership positions at the Department of Commerce and the General Services Administration, in addition to working at several private firms.
The appointee previously also served as the undersecretary for management and acting deputy secretary at the Department of Homeland Security.
His portfolio at DHS included the agency's finance, human capital, information technology and procurement programs and operations. 
"I am honored to join the Homeland Security and Defense Business Council, a member organization with a long history of service to the homeland security industry and the government agencies that protect our homeland," Borras said.
Borras' appointment followed a recruitment process led by the HSDB board of directors and by an executive search firm. He replaced the former president and CEO, Marc Pearl, who retired in March.
Category: Partnerships and Executive Moves
Tags: A.T. Kearney Department of Commerce Department of Homeland Security General Services Administration Homeland Security & Defense Business Council HSDBC John Saad Marc Pearl Partnerships and Executive Moves Rafael Borras