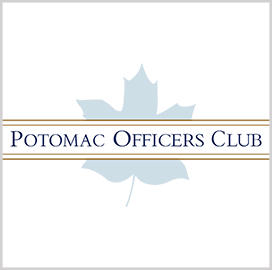 Jim Garrettson of
Executive Mosaic and
Jim Brinker of Intel
Intel Federal Head Jim Brinker Receives First Wash100 Award
Jim Brinker, president and general manager for Intel's federal business unit, has received his first Wash100 award from Executive Mosaic.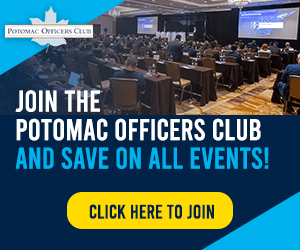 Executive Mosaic CEO Jim Garrettson presented the award to Brinker, a Potomac Officers Club member, in recognition of his efforts to expand the company's Intel's cyber and artificial intelligence technology operations via major partnerships in the government contracting industry. 
Brinker said in a GCN opinion piece in early 2020 that edge-level data processing will help drive the use of AI intelligence in the creation of smart cities, where various electronic sensors and devices be used extensively to collect data. 
He added that moving away from conventional data center operations to real-time processing at the network edge allows AI models to produce immediate inferences to help vital emerging technologies such as 5G communications.
Brinker said 5G is seen to accelerate the development of smart cities and enhance every area of their operations with the assistance of predictive analytics and AI. 
He noted use cases such as training of self-driving cars and AI-based analysis of drone-obtained data, improvement of disaster response and traffic management to advance energy efficiency. 
"As the U.S. confirms its commitment to AI development, the technology will undoubtedly become an even bigger part of the fabric of our everyday lives, although we may never realize it," Brinker said. "Ultimately, our traffic will flow a little smoother, cities will be a little safer and emergency response a bit quicker."
A graduate of the University of Florida, Brinker joined Intel in 2015. As head of the business unit, he leads various teams including contracts, business development, pre/post sales program management, supply chain, information security, engineering, and finance.
Executive Mosaic is a leadership organization and media company based in Tysons Corner, Virginia. The organization issues the annual Wash100 awards to recognize government contracting executives who demonstrate skills in leadership, innovation, reliability, achievement and vision.
Category: Member News
Tags: artificial intelligence Executive Mosaic GovConWire information technology Intel Federal Jim Brinker Jim Garrettson Member News Potomac Officers Club Wash100