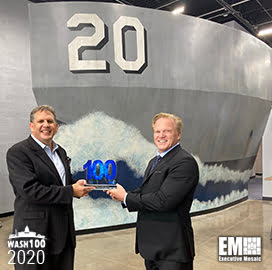 James Geurts
and Jim Garrettson
James Geurts, Navy Assistant Secretary for R&D and Acquisition, Bags First Wash100 Award
Executive Mosaic has awarded James Geurts, U.S. Navy assistant secretary for R&D and acquisition, his first Wash100 award, which is given to the most influential leaders and executives in the government contracting sector.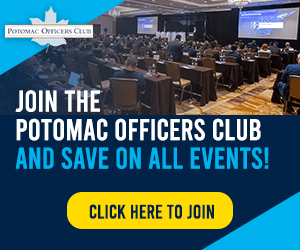 Jim Garrettson, the CEO of Executive Mosaic, recognized Geurts for his leadership in the development of sophisticated technology to advance the Navy's workforce, its capabilities and support during the COVID-19 pandemic.
Geurts, a past Potomac Officers Club event speaker, disclosed that the Navy has awarded more than $88.5B in contracts to review potential telework-based aviation maintenance operations. The deals also include remote training, installation and technology support during the virus outbreak. 
He also uses the agency's supply chain management systems to help determine locations where production may be expanded to safeguard the supply lines during the global crisis.
Geurts also said the Navy's efforts in improving the business procedures on collaboration at work, coupled with academic partnerships, will accelerate its R&D activities. The service branch is deploying a distributed research structure to enable simultaneous operations between various organizations, he added. 
The organization is implementing a phased method of reducing program delays and facilitating contract awards, according to Geurts.
"What we can't afford to do is take a year or two off of research and development, lose those key performers because they are key to our readiness five and 10 years from now," he pointed out. 
Appointed on Dec. 5, 2017, Geurts's current role provides him oversight of the agency's annual budget of more than $100B. He is in charge of equipping and supporting sailors and marines with platforms, systems and technology in support of their mission around the world. 
Executive Mosaic has been recognizing leaders in the government contracting sector since 2014. Wash100 recipients are recognized for demonstrating skills in leadership, innovation, reliability, achievement and vision. 
Category: Speaker News
Tags: 2020 Navy Forum GovConWire James Geurts Jim Garrettson Potomac Officers Club Research and Development Speaker News U.S. Navy Wash100