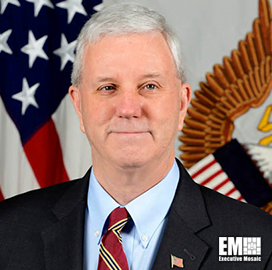 James McPherson Named Navy Acting Secretary
Defense Secretary Mark Esper has appointed Army Undersecretary James McPherson to serve as acting secretary of the U.S. Navy.
McPherson will replace Thomas Modly, who resigned after receiving backlash for his response to the dismissal of the commanding officer of the USS Theodore Roosevelt aircraft carrier.
Esper, a 2020 Wash100 Award winner, regarded McPherson as a retired admiral with a distinguished 26-year naval career, serving ashore, afloat and overseas, ExecutiveGov reported.
Esper also believes that McPherson will restore confidence and stability in the Navy.
Prior to his appointment as Army undersecretary in March, McPherson served as the 22nd general counsel of the service branch. He was also the former executive director of the National Association of Attorneys General and general counsel for the Department of Defense's counterintelligence field activity.
In 2006, he retired from the Navy as a judge advocate general.