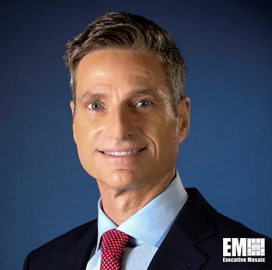 James Taiclet
President and CEO
Lockheed Martin
James Taiclet Named Lockheed Martin President, CEO
James "Jim" Taiclet has taken on his new role as president and chief executive officer of Lockheed Martin, replacing Marillyn Hewson, who has been at the helm of the company since 2013. 
Following the move, Taiclet will continue serving Lockheed Martin's board of directors while Hewson, a 2020 Wash100 winner, will take over as executive chairman of the board and provide ongoing support to facilitate the transition.
Citing the company's commitment to global security and the national challenges dealt by new and emerging threats, Taiclet expressed urgency to deliver the best systems and equipment in the world and to lead a workforce dedicated to advancing future technologies and security, Lockheed Martin said. 
Previously, Taiclet served as the chairman, president and CEO of American Tower. Under his leadership, the company branched out from merely being a U.S. business to a global player in its industry. American Tower has seen its market capitalization surge from approximately $2B to over $100B.
He was also president of Honeywell Aerospace Services, a unit of Honeywell International, and vice president of engine services at Pratt & Whitney. Additionally, he was tapped as a consultant for McKinsey & Company, with emphasis on telecommunications and aerospace strategy and operations.
Taiclet transitioned to the private sector following a career with the Air Force and a tour of duty in the Gulf War. 
He completed his degrees in engineering and international relations from the Air Force Academy and a master's degree in public affairs from Princeton University.
Lockheed Martin's former leader, Hewson, led the company in achieving a 280 percent market capitalization growth rate. As a 37-year Lockheed Martin employee, Hewson has held various roles, including president, chief operating officer and executive vice president of the company's electronic systems business area.
She is a multi-awarded leader, having been recognized as the most powerful woman in business for two consecutive years by Fortune Magazine and one of the "100 Most Influential People in the World" by TIME magazine.
Category: Partnerships and Executive Moves
Tags: American Tower Corporation CEO Honeywell James Taiclet Lockheed Martin Marilyn Hewson Partnerships and Executive Moves